ISO Certification in UAE is an essential business improvement initiative every organization must explore.
There are various certification standards available for companies in the UAE to opt for depending on their nature of business activities, employee size, and business activities.
How ISO Certification helps the organization in UAE?
ISO Certification helps organizations in many ways and will help them demonstrate the capabilities of the business operations to produce quality products and services.
To streamline business operations and embrace quality practices the organizations in UAE are getting certified with ISO Certification.
The ISO Certification has a series of frameworks and policies for the organization to follow in their daily business operations.
It will in turn help in transforming their business system and raise customer satisfaction.
Why Should I get ISO Certified?
Government organizations and large multi-national companies in UAE prefer to work with suppliers that are ISO Certified.
It raises confidence and reliability. ISO Certified companies display a level of quality in all their business operations and embrace the principles of quality management.
The employees are well trained and aware of the business operations to streamline the workflow by adopting the quality management system framework
Popular ISO Certification Standard Organizations must follow
Here are a few of the most essential ISO Certification Standards organizations in UAE must follow to gain the desired benefits from the ISO Certification implementation.
Companies can optimize their business processes by following industry best practices and adopt standard operating procedures. It enables them to produce quality products and render exceptional services raising customer satisfaction.
1. ISO 9001:2015 Certification – Quality Management System
Quality Management System Standard Certification (ISO 9001:2015) helps organizations to demonstrate their capabilities of producing quality products and services.
Also, ISO 9001:2015 Standards helps in implementing a QMS System and empower the team to practice continuous improvement. It will in turn enhance the overall quality of products and improve customer satisfaction.
Irrespective of the business activity and size of the organization, ISO 9001:2015 Standard is the right choice for organizations to achieve their desired business objectives.
2. ISO 27001:2018 Certification – Information Security Management System
The Cyber Security Standard is an essential ISO Certification to safeguard the organizational IT Systems from any attacks from hackers.
ISO 27001:2013 Certification Standard helps the organization in implementing an Information Security Management System. It acts as a central control point for the organization's IT Systems.
User-level access, password protection, file management, file transfers, etc., will be controlled by the IT team complying with the ISO 27001:2013 Standard guidelines.
It ensures IT system protection and avoids any potential vulnerabilities of data attacks by hacking the server.
3. ISO 22000:2018 Certification – Food Safety Management System
For the Food and Beverages Manufacturers in the region, getting ISO Certified in UAE helps in standardizing the product quality across their different manufacturing units and deliver exceptional customer service.
The Food Safety Standard Certification provides guidelines to ensure the food is safe to consume under all conditions.
Getting Certified with ISO 22000:2018 also helps an organization to identify the vulnerabilities in the production lines and business operations that cause risk to the product quality.
It also includes best practices and guidelines on choosing the right raw materials, suppliers, and quality first items to manufacture food that is 100% safe for consumption and follow a standardized operation process.
The standard also integrates the principles of Hazard Analysis and Critical Control Point (HACCP) System ensuring advanced food safety compliance to the food manufacturing unit.
4. ISO 45001:2018 – Health and Safety Management System
The ISO 45001:2018 Health and Safety Standard is an essential standard for organizations of any size in the region. The main aim of the Standard is to prevent work-related injury and provide a safe workplace.
It is a widely accepted global standard in construction, energy, transportation, logistics, sectors to ensure the workplace incidents due to human error are eliminated.
ISO 45001:2018 has the framework that enables the organization to follow a standardized operating procedure.
It streamlines the business operations in such a way that the workplace is free of any potential hazards to the workers.
The Certification requires implementing a health and safety system in the organization that will help in reducing workplace incidents and monitor the daily business activities to make it conducive for workers.
5. ISO 22301:2018 – Business Continuity Standard
The ISO 22301:2018 Standard helps organizations to understand and strategize policies to mitigate risks and threats to the business that are unexpected such as a pandemic, war, disruptive incidents – flash floods, wildfire, etc.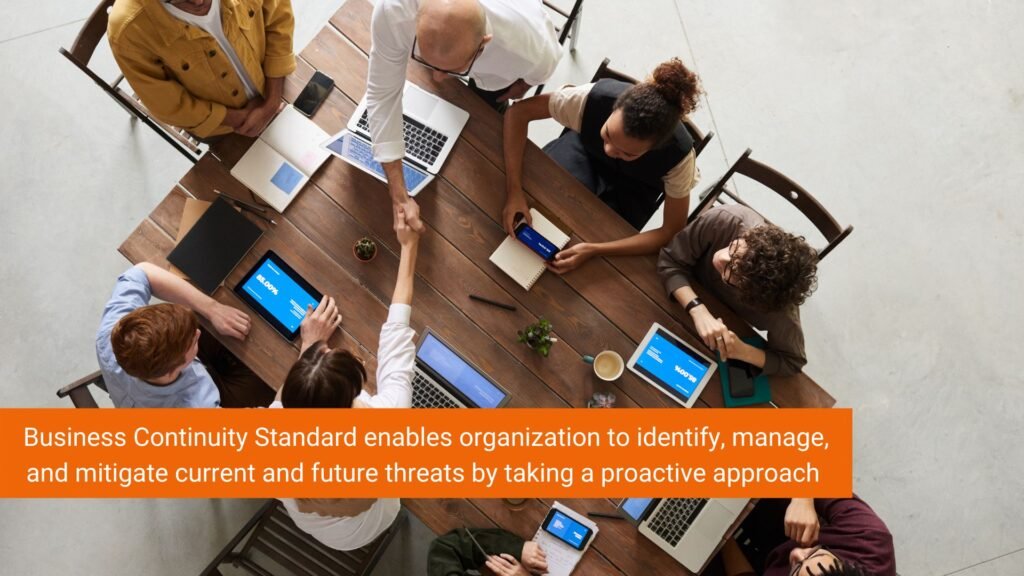 With the Business Continuity Standard Certification, an organization can identify, manage, and mitigate current and future threats by taking a proactive approach.
It helps in reducing the impact of incidents and keeps the critical functions running effectively.
ISO 22301:2018 Standard is essential in all sizes and types of organizations across industry sectors.
Especially, for strategic industry sectors such as energy, healthcare, transportation, logistics, etc. minimizing the downtimes and keeping the system running is critical during any sudden outages.
Such instances can be effectively handled by following the standard operating procedures and policy framework stated by the Business Continuity Standard.
To know more about ISO Certification in UAE and the Certification Implementation Process, connect with our expert ISO team right away!
Contact Us: Aurion ISO Consultants